The measurement principle, environment and test method of integrating sphere and Goniophotometer are different, and the measurement results of the two are not comparable. We can choose the appropriate method to test according to different standards and different requirements.
According to the requirements of CIE, IESNA and national standards, we have achieved testing methods as B-(B、A-a and C-y through rotating lamps. It is used to test the spatial light intensity distribution as well as variety luminosity parameter of indoor spotlight, cast light lamp and street light. It can work either with double arm or single arm.

High Precision Rotation Luminaire Goniophotometer
Measurement:
Luminous Intensity Data, Luminous Intensity Distribution, Zonal Luminous Flux, Luminaries Efficiency,Luminance Distribution,Coefficient Of Utilization, Luminance Limitation Curves Glare, Maximum Ratio of Distance to Height, Equal Illuminance Diagrams, Curves of Luminaires VS Lighting Area, Isocandela Diagrams, Efficient Luminescence Angle, EEI, UGR, etc.
Main reference standards:
LM-79-2008 Electrical and photometric measurement certification methods for solid-state lighting products;
GB/T9468-2008 General requirements for light distribution measurement of lamps;
LB/T 001-2008 Integral LED street lamp measurement method;
GB/T 24824-2009 LED module measurement method for general lighting;
GB/T7002-2008 Photometric test of floodlight lighting;
CIE 69 Methods of Characterizing Illuminance Meters and Luminance Meters;
CIE 70-1987 The measurement of absolute luminous intensity distributions;
CIE 121-1996 The photometry of goniophotometer of luminaries;
CIE 84 Measurement of luminous flux;
IESNA LM-75 Goniophotometer Types and Photometric Coordinates;

Photometric parameters:
1. High-precision constant temperature probe (constant temperature point 35 ± 1 degree, constant temperature accuracy ± 0.1 degree);
2. V(λ) correction accuracy: CIE standard level (f1' <0.03);
3. Illumination measurement range: 0.001 lx to 200 klx, 5 automatic ranges;
4. Maximum test distance: 2 meters to 30 meters;
5. Highly stable probe holder with light-shielding grating, high bottom adjustable, up and down and left and right inclination angles adjustable;
6. Length of photometric probe connecting wire: 20 meters (can be lengthened for special requirements);
HPCS6500 high-precision photometirc,Colorimetric and Electric Test System, the whole machine adopts aluminum alloy chassis, embedded high-speed processor, 10.1-inch color LCD Touch screen, Use interaction. The system integrating high-precision spectrometer,DC power supply,AC power supply ,Digital power meter in one device, use independently also can connect to pc software.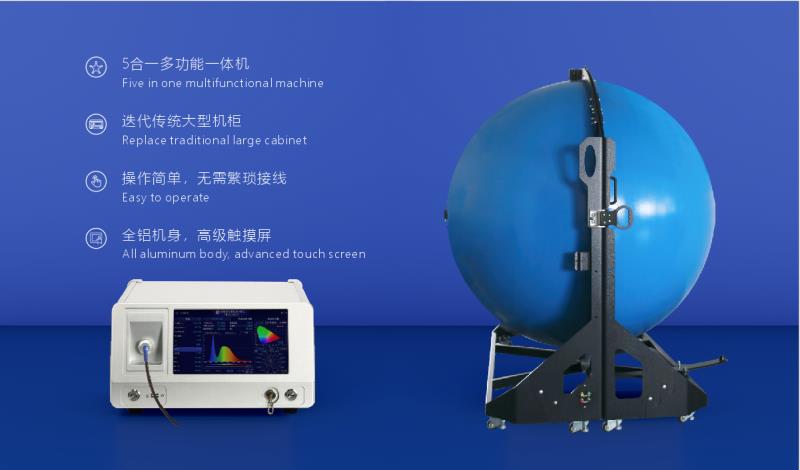 High precision Spectroradiometer

Meas parameters
●Wave range : 380-780 (Support Customized 200-1100nm )
● CCT range : 1000-100000K
●FWHM) : 2nm
●Integration time : 10ps-10s
●Chromaticity coordinates Accuracy :±0.001 (Under standard A source )

High speed detector

●Luminous Flux test: 0.01lm-200z000lm (With different integrating spheres)

High precision DC power supply

● Voltage output range : 0-60.0V
●Current output range : 0-5.0A
●Maximum output power : 300W
●Measurement accuracy : ± ( 0.02% reading +0.01%+1 )

High precision AC power supply

●Voltage output range : 0V-300V
●Frequency output range : 45Hz~65Hz
●Maximum output power: 750VA
●Maximum output current: 4.6A
● Harmonic distortion : >=2%

Digital power meter

●Voltage measurement accuracy : ±( 0.4%*+ 0.1%*+1)
●Current measurement accuracy : ± ( 0.4%*+ 0.1%*+1)
●Measurement accuracy of power meter:± (0.4%*+ 0.1%*+1)
●Power factor measurement accuracy : ± ( 0.001/® + 0.001*(1 + 0.02f) +1