A burgeoning industry with potential impact for our future



Indoor agriculture is a promising alternative for food supply at a time of global environmental crisis. One important component is the use of grow lights to complement or substitute sunlight. Here we discuss how grow lights and PAR measuring devices are important in this industry.




Grow Lights – Unravelling the secrets of sunlight
The big challenge was and is unlocking the secrets of sunlight so we can substitute or complement with indoor lighting. And thus a new era of lighting focused on indoor farming has emerged – they are called Grow Lights.

Science of Grow Lights
The strategies behind Grow Lights are essentially about biology, chemistry and physics. Ultimately, the goal is to understand the secrets of sunlight to use to our advantage.

Grow Lights with the right colors


How do plants use light? Most plants appear green because they are reflecting the green light from the Sun – in effect, they don't use green light. The Red and Blue light, however, are absorbed by the plant and is used to start a chemical and electrical process called photosynthesis, a vital bio-mechanism that produces sugar. Sugar is used to power the growth of the plant (stems, leaves, flowers and fruit). The main pigment molecules (light absorptive molecules) in a plant that can receive and process light are called Chorophyll and Carotenoids. As you see below, the light absorbed by these pigments are mostly in the realms of blue and red light. Your grow lights need to amply supply light in those colors.
How much light do you need?
Aside from color you have to know how much light to give. Giving too much light has adverse affects on some plants, and indiscriminately showering your plants with light is energy wasteful. But, too little light means your plants are not nourished properly. But how do you measure light quantity?

If you remember from your Physics class, light is both wave and particle – it is the particle aspect of light that we are measuring. PPFD or Photosynthetically Photon Flux Density is the quantitative measure of photons or particles of light falling on an area.

So how do measure the Colors and Quanitity of light?
It's called a PAR meter. PAR stands for Photosynthetically Active Radiation and it refers to the wavelengths that plants react to. A PAR meter can measure quantities of light (in PPFD) as well as the colors that the light is providing (spectrum).
HOPOOCOLOR OHSP350P displays PPFD as well as grow light spectrum with Chlorophyll color sensitivity range superimposed over it.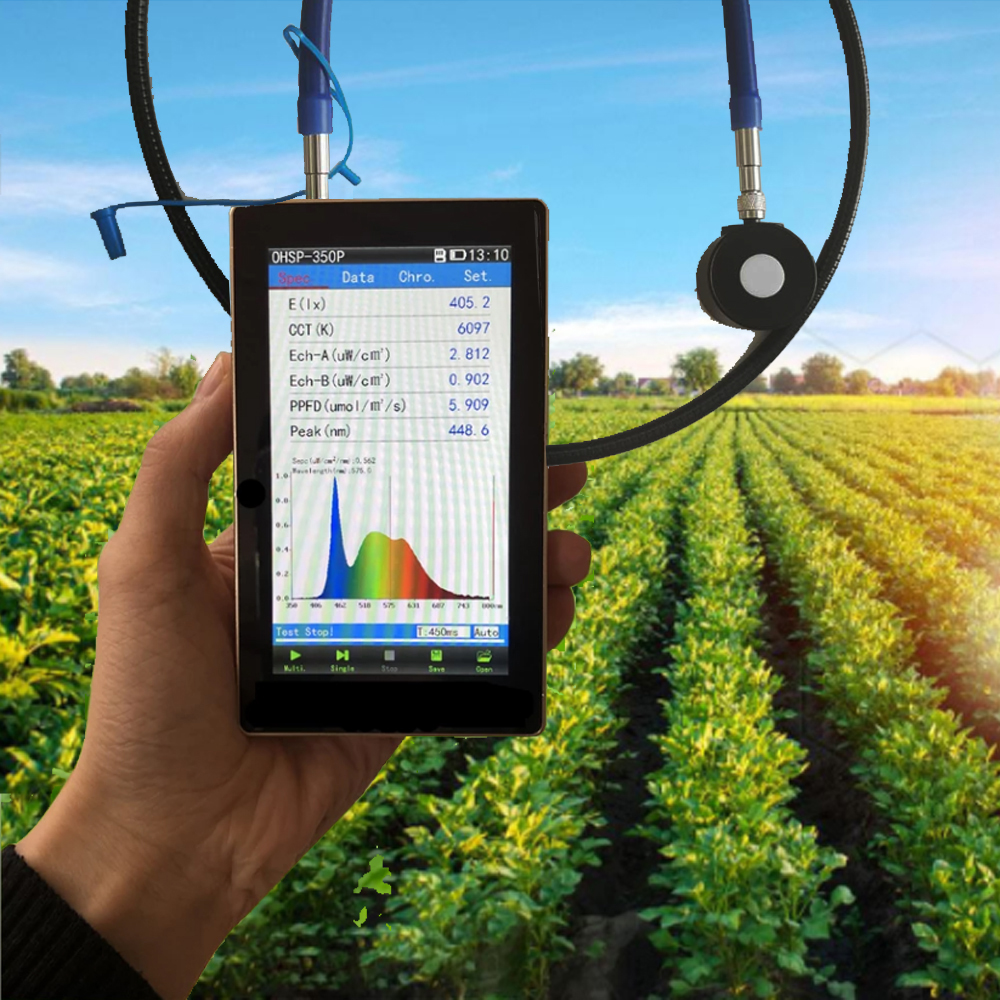 PAR meters with optical fiber and heads are important to measure with precise, consistent angle and distance.
Indoor Agriculture and data analytics
As you might have guessed, grow lights and indoor agriculture is about collecting information to ensure efficient, productive plant growth and conservation of energy. Data about PPFD need to be collected, saved and analyzed. Indoor agriculture is more than ever about the numbers.